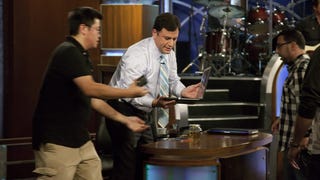 Even if you're not a regular Jimmy Kimmel Live fan, it might be worth tuning in tonight. Because when they tried to film the episode yesterday, the power went out. So they recorded with a laptop webcam instead. UPDATED:
The outage apparently affected the show's control room, broadcast transmission center, and tape operations area, meaning that Kimmel and the staff had to resort to the webcam. Seth Rogen and Wipeout's John Henson are guests, but I'm personally most excited to see country star Dierks Bentley's performance. Not so much because I like his music (although it's not bad!). It's mostly to see how this turned out: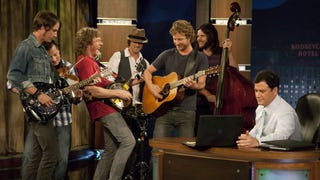 The episode airs tonight at 12:05am.