Running around leaving scars, collecting my jar of hearts and tearing love apart...
@Lord_Voldemort7 is blocked
Are you sure you want to view these Tweets? Viewing Tweets won't unblock @Lord_Voldemort7.
North Korea is currently tracking down all of Margaret Cho's passwords. #GoldenGlobes
451 retweets
783 favorites
It's no coincidence that everyone parties on Voldemort's birthday. Happy New Years Eve. http://twitter.com/Lord_Voldemort7/status/550363929193775104/photo/1pic.twitter.com/uqQH7x8cRj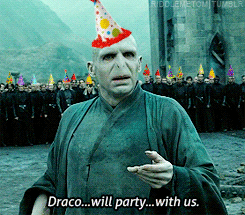 1,286 retweets
1,319 favorites
People are tweeting "Page 1 of 365." This is the only time I support burning books.
1,160 retweets
1,553 favorites
The only one willing kiss you under the mistletoe is a dementor. Happy Holidays.
2,724 retweets
2,448 favorites
Fa la la la la la la fuck you.
2,174 retweets
2,139 favorites
#AwkwardMoments: When a Death Eater accidentally touches their Dark Mark in the shower.
1,268 retweets
1,933 favorites
Star Wars 7: The Force Awakens? Did Vader have horcruxes?
742 retweets
1,017 favorites
Crazed teens on twitter found #AlexfromTarget in about an hour. Where were you when Harry was looking for Horcruxes?
1,039 retweets
1,830 favorites
"RIP James and Lily Potter" is trending. Well, this is awkward.
3,009 retweets
4,225 favorites
Tomorrow is Halloween... I solemnly swear that I am up to no good.
2,509 retweets
2,562 favorites
Happy National Cat Day, McGonagall.
2,175 retweets
2,659 favorites
Twitter may be over capacity or experiencing a momentary hiccup.
Visit Twitter Status for more information.
Don't miss any updates from The Dark Lord